Note:  This page contains some affiliate links.  That means I will receive a small commission if you click through and make a purchase.  If you're enjoying the content on CheerfulMoney.com, think of it as giving back to support my efforts at no cost to you.  Maintaining a website like this takes a commitment of time and money.  All the products and services and tools listed below are companies I am able to confidently recommend. 
---
Money Management Resources
Some of these tools are free and some are not, but all are tools that I use in my personal finances.
Giving Goals Sheet
Call me selfish if you want…lol…but I'd like to start with my own free resource.
You love setting goals.  For everything from career advancement to weight loss to investments to debt reduction, you set goals.  What if you set goals for generosity?  Say to tithe 10% to your local church this year.  Or maybe tithe 10% AND give another 10% to another mission? 
Is your giving important enough to be intentional?
Subscribe and I'll send it over right away.
You Need A Budget
I'm telling you, this is the absolute best household budgeting software on the planet.  They go by YNAB, "Why-NAB."
It's not free, but they offer a free 34-day trial.  After that it's $6.99 a month billed annually ($83.99).
It's worth every penny – if you use it.
According to YNAB:  "On average, new budgeters save $600 by month two and more than $6,000 the first year!" Pretty solid return on investment.
Here's a screenshot of desktop and mobile:
YNAB contains all of our daily expenses AND our sinking funds for major purchases, including yearly premiums.  We love YNAB.  Seriously. 
I've never found any better software for a personal family budget.  Eventually I'll write a review, but for now you can see my actual household budget categories.
Take YNAB for a test drive for 34 days.   I'd love to hear how it works out for you.
For the sake of full disclosure, if you become a paying subscriber I get one free month.  If you don't want me to have that then simply skip my links and Google it.
Saving Money
I use Ebates all the time to save money with online purchases.  The big key here is to only purchase items you were planning to purchase anyway.  No discount chasing.
If you sign up through my link and spend $25 through Ebates, you'll get $10 cash back and I'll get a $25 referral bonus.
---
A Few Financial Blogs I Recommend
---
A Few Podcasts I Recommend
---
Let's Talk Books
I love books.  Wish I was a faster reader.  Audio helps 🙂
Faithbox
Faithbox is a monthly subscription box (think Birchbox or Barkbox for Christians) and is filled with products from companies who have a positive impact on the world plus our self-published devotional and an impact guide.
Here's an example:
Each box sent also provides 3 meals to hungry kids via our non-profit partner.  You know I love this!
Save 50% on your first order using promo code: BHFC50
Christian living books are a great way to invest in yourself and invest in your faith.
If you choose to sign up, I'd love to hear about what books you've received!  Shoot me an email.
Enough: Finding More by Living with Less
by Will Davis Jr.
My biggest takeaways: Stop fixing things that aren't broken.  Be content.  Give!
This little book has challenged my wife and I to live a life of contentment.  Will Davis Jr. helped remind us that Christ calls us to a quiet life of contentment and generosity – AND that life doesn't have to be void of ambition!
The Total Money Makeover
by Dave Ramsey
My biggest takeaway:  Avoid debt and grow your wealth so you can give generously to Kingdom work.
If you're new to his teachings this book is a great place to start.
---
Start a Blog Like Cheerful Money
Everyone has a story to tell and almost anyone who can write or speak should start a blog.
You don't have to start a business blog (like this one), you may want to start a family blog.  However you do it, putting your voice out into the world is both risky and rewarding.
We live in a time when communicating with the world is easier than ever before.
Since I'm still fairly new to the blogging scene I thought I'd share the companies I'm starting with.  It took more time to research and understand than I had anticipated, but so far into this project I'm still very happy with my decisions.
Pre-step is to choose your topic.  What do you enjoy enough to write about 3-5 times per week?  It is important to consider how much time you'll be spending with this topic before committing to it.
For example, I'm a hobby beekeeper.  I enjoy spending time with my honeybees, and I enjoy extracting honey and of course eating honey.  When I considered a blog dedicated to beekeeping I quickly realized it was not for me.  There are a lot of beekeepers who can write about honeybees 3-5 times per week.  I'm not that guy.
Point is you need to know you won't get bored.
So, pick a topic and make the jump.
Step One: Buy a Domain
I buy all my domains through Namecheap.com
I prefer simplicity in everything I do.  After some searching, I found NameCheap.com to be the simplest and cheapest domain registrar.  In fact, I transferred all my all my domains over – even my wife's.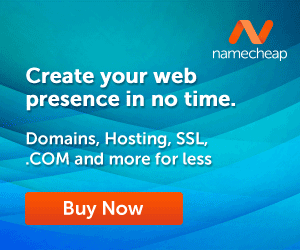 Step Two: Choose a Hosting Company
You can spend hours or days of your life researching hosting companies to find the deal of the day (like I did), or you can just pick one, set it up, and move on.  Truth is most hosting companies are all owned by one or two hosting giants.  They just have a lot of brands.
I've chosen HostGator for my sites.  It has nothing…and everything…to do with the gator.
Check out their packages.
Step Three: Choose a Self-Hosting Platform
If you happened to choose a 'one-click install' from HostGator you could skip this step and already be working with WordPress.
Once you own your domain and purchase a hosting package, it's time to create the site.  A lot of this can be done free, but the problem with free is it's not scale-able.  You'd need to make major changes.
Since I have big hopes for this site, I chose to plant where I had room to grow.
Behind-the-scenes of Cheerful Money you'll find Self-Hosted WordPress, Genesis Framework, and the StudioPress Digital Pro Theme.
The three work together in perfect harmony.
Learn how they work together at Studio Press 101.
I chose the Digital Pro Theme  for it's modern design and clean, minimal look.
Step Four: Build and Create!
It's time to make your site look and feel beautiful.
If you've chosen the same setup as I did in step three, my recommendation is to create the demo.  One of the strengths of StudioPress is their in-depth setup instructions.
Take the time to go through it step-by-step until your site looks exactly like the live demo.  That will make it a whole lot easier to simply replace page titles, images, etc. to match your personal blog.
After that, it's time to create.  Write, write, write…and then write some more…which brings me to my final point.  It's a point some people overlook when following the lore of online business.
If you don't like writing you won't like blogging.
Seems obvious, but to some people it's not.  At the end of the day, content is king and most blogging content is the written word.
You can still follow the steps above.  When it comes to creating content though you need to focus on video or audio (podcasting).  Figure out what kind of content you like to make and jump in with two feet.
Hope this helps!
This page is an ongoing work-in-progress to provide valuable financial resources for my readership.  If you have suggestions or personally represent a product or service that may fit, please reach out to me.